Why Case Studies Matter
Consumers and businesses are doing more self-guided research than ever on concepts and techniques before committing to a solution. Case studies are a great way for you to build trust through content marketing by showcasing your real-world results.  
---
"An unexamined life is not worth living."

— Socrates
---
Background Information
Which of your client's personas will this case study target? (Future Client and/or Future Boss)
This cinemagraph targets a specific audience that is anyone over the age of 25-49 years old, mainly females that likes to drink hot beverages with a sweet chocolatey flavor.
Does this case study relate to a specific product, service, or vertical? If so, which?
Yes, this case study related to the brand Swiss Miss Hot Chocolate. They are available in a variety of assorted flavors and have a line of flavored and unflavored puddings available for purchase in grocery market and value stores worldwide.
What should this case study demonstrate to your readers about your abilities?
This case study will help show my readers that I am able to do projects that require different forms of design skills. By creating this cinemagraph, I can show my readers that I am serious about learning my craft. I can do photography and videography elements easily now that I have expanded my knowledge on the subject. From the shop MP4 clip, I want my audience to see that I can seamlessly edit a video clip with another video clip, that I have knowledge of setting up, creating, and producing animations, voiceovers, unique audio tracks, and several types of transitions and effects. I was able to hone in on my photography skills that were taught to me a few semesters ago in my graphic design class. I can see cinemagraphs being used on social media cove images, as hero images on websites, and even on a brand's social media marketing and advertising. This case study demonstrates my ability to achieve beyond knowledge on my topic and ways to always improve my work
---
Section 1: About the Client
What is the full name of the client brand?
Swiss Miss Hot Chocolate
What industry are they in, and what is their position within the industry?
Swiss Miss is the one of the top 10 largest instant hot chocolate brands in the hot beverage industry.
What are important details about this client that should be shared?
Swiss Miss is an iconic branding for cocoa powders and pudding products invented my Charles Sanna and sold by an American food company called Conagra Brands. They have been around for over 50 years and was originally sold to luxury airlines before hitting supermarkets and being available to the public.
---
Section 2: Their Challenge
What issue, challenge, or pain point did the client want you to address?
The challenge that the client wanted this cinemagraph to address was to help remind young adults, women, and children, that it is okay to take a minute and enjoy the little small pleasures like a relaxing cup of hot chocolate on a chilly day or night, no matter what time of the year it is! During the summer, spring, and even early fall seasons, consumers frequently forget that hot chocolate can be drank year-round and be used to take a moment to relax out of the everyday chaos in one's life. Additionally, the company would like to see an increase in purchases and overall sales. The Swiss-Miss company would also like to see an increase in their social following and interactions online.
Why did they have this problem?
One problem that the Swiss Miss branding is having was the fact that people were only buying hot chocolate in the winter months and it was a product that had to be sold year-round. Additionally, consumers were seeing hot chocolate and hot flavored beverages to warm up quickly and not enjoying the beverage the way it should be to get the best flavor and quality.
What were your client's expected outcomes from working with your team to solve their stated problem?
My client's expect outcome was to receive a seamless looping cinemagraph, mp4 file, that intrigues its viewers to want to go out and buy a cup of hot chocolate immediately! The client wants the file size to be small and easy to upload onto social media profiles. It should load fast and require little to no effort to understand what the video is about without having to ask any questions.
Why did they engage your organization to help?
This project was for my college class, so I choose the organization based on my level of creative freedom, knowledge, and skill. Also, I choose to use my graphic design skills to create this mp4 because of my attention to detail and how enthusiastic I am about chocolate products. I was able to use my attention to detail to help create storyboards and scripts that followed along with the main idea and focus of my cinemagraph. The organization believes that with the right cinemagraph they can increase sales of their hot chocolate products.
---
Section 3: Your Solution
How did you approach the challenge?
Making a cinemagraph was an exciting new project for myself as a designer to do. I had to research different ideas and video clips that I believe would stick out to that ideal target audience. I was required to learn new parts of Photoshop and a new software called Flixel to create a seamless looping video file. Before beginning this project, I had to conduct product research on the Swiss Miss hot chocolate line, with a variety of regular flavors and new seasonal flavors, there was a lot of information available on their products. I decided the best way to get reliable and true results was to use myself and the help of my family member to ensure that the products were tested and sampled the right way. This in turn will help provide me with reliable source of information to use for my cinemagraph and overall project. After spending a day or two gathering information on the Swiss Miss branding, I was able to narrow down my target audience to a specific gender and group, and was able to create a compelling swot analysis. Using the detailed information from my research I was able to narrow my target audience to young female adults, ages 25-49 years old that tend to be busy and always on-the-go, thus making it hard to enjoy the simple pleasures in life such as hot chocolate. My swot analysis helped break down the strengths, weaknesses, opportunities, and threats that the branding/company has. Some of the strengths are a wide variety of flavors, easy to recognize packaging that is often associated with the winter season, affordable, and has a low-calorie version of the product available. There are some weaknesses that the brand should focus more on adapting to fit the consumers new needs such as hot chocolate being vied as unhealth due to the high sugar content, it can be considered a seasonal drink instead of being drank year-round, and there is a small market and audience for hot chocolate. However, Swiss Miss has some great opportunities that can be taken advantage of and used to improve the business. These opportunities consist of updating the instant packages to include Keurig cups, or K-Cups for short, promoting and increasing the seasonal and limited-edition flavors and packaging. Lastly, there are a few threats that should be acknowledged like the growing number of competitors in the hot beverage industry, caffeinated hot beverages are starting to become prominent in the targeted audience, and some consumers consider hot chocolate unhealthy. Once my swot analysis was completed, I was able to approach the Swiss Miss cinemagraph project with a detailed and reliable amount of research and information. The next part of the project consisted with creating a variety of storyboarding and video shot lists. By creating these templates and layouts beforehand, I was able to spot the mistakes that I made and quickly learn how to correct them without advancing too far into the project, thus being left with a reliable video file that I can trim and edit to my liking. This cinemagraph project tested every aspect of my graphic design knowledge by ensuring that all my earlier knowledge from the past semesters as I had to create, produce, edit, and distribute the cinemagraph throughout my design portfolio website and social media profiles. Also, I had to often check my edited clips to match the video clips correctly and follow the right timing sequence. Besides this project helping to increase my knowledge on videography, it primarily focused on creating, setting up scenes, and producing video shots, along with deciding on the proper lighting for the point of view shots. Another part of this project was having to pick out the correct background music and voiceover levels. Finding the right level of equal tones and sounds was challenging because I did not want my voice over of the case study answers to get drowned out by the background music and vice versus. Once I had all my elements created and put together, I was able to combine the elements to create my finished cinemagraph.
How was your client involved in this stage?
The client was not involved in any part of the staging and/or making of this cinemagraph and MP4 file. Instead, my professor and classmates in my classes helped provide me with constructive and creative criticism to create a high-quality final project.
What was the solution?
The solution for a lot of my problems was to take a step back and try a different solution to the problem. I also decided that the best way to record the video files/clips is to create one long video clip and then proceed to edit and trim that video file down. This will allow me to continue working without having t6o stop to correct any problems or issues until the end of the video shoot.
What was the timeline?
This project took a totally of 10 weeks (about 2 and a half months) to complete from the beginning stages- conception and overall idea creation- to the final stages of being posted on social media profiles, portfolio websites, and YouTube accounts. The assignment was broken down to different assignments and stages throughout the 10-week timeframe. I had frequent peer-reviewed constructive criticism from my classmates, professor, family, and friends that helped me edit and tweak the design to become a composition that targeted a large group of people and not just the target audience for the Swiss Miss branding.
---
Section 4: Results (Hypothetical)
Did your solution solve the client's stated problem or accomplish their objective(s)?
Yes, my solution of creating an engaging cinemagraph that can be used on their website, social media sites, and even shared on consumers' blog postings. Additionally, by using the cinemagraph correctly, Swiss Miss can target a new audience and increase their exposure to the younger generation. The client, Swiss Miss, will be able to increase their overall ROI and familiarity with their customers. The third problem that this project has helped accomplish and increase the notoriety with the younger generation. The use of a cinemagraph on the website as a large cover image or banner will show the visitors of the Swiss Miss website that the company is constantly staying up to date and finding new ways to improve their relationship with their consumers. The social media postings will consist of using an effective branding caption and hashtag strategy that will deliver the maximize return for what the company invested.
What benefits did your client see because of your work immediately?
My hope for the client, Swiss Miss, to see is an increase in website views, purchases, and overall brand recognition. The company currently uses a 50-year-old recipe that uses real milk and dairy products in the instant powder. This helps to add a level of rich & creaminess to the hot chocolate. From the use of positive cinemagraphs and frequent online brand postings, I believe the Swiss Miss company should see a 30% and higher increase in their online website visitors, social media views, followers, and interactions.
What benefits should your client see because of your work over time?
The client should see a 60% increase in overall branding sales and distribution. I believe that if the company consistently provides the public with a modern up to date social network and advertisements that this will increase the overall brand recognitions, sales, and engagement by over 60%.
Are there specific KPIs, measurements, statistics, or ROI data you can share that clearly demonstrates the value of the solution/service/strategy you provided?
Social media profiles have seen a 20% increase in followers, likes, posting, and overall engagement.
The Swiss Miss website will see a 45% increase in online website views, and internet purchases.
Which one of those data points would you consider to be the most important? Why? Would your client agree that you solved their problem or helped them achieve their intended goal?
The most important data point the Swiss Miss company that would be considered the most important to me is the increase in website views, social media engagement, and lastly a drastic increase in followers and likes. These data points are the most important to me because I believe they will show real-life and real-time updates in the company. These updates will help increase the brand recognition and help get the public and consumers to start and continue talking about your branding. The more people that are talking about your branding the more interest and return for your investment or money that you will see back.
---
Section 5: Critical Stimulus
What information on Miro was key to your understanding of the problem case and how and why did it factor into your approach?
I found the use of Miro throughout this project extremely helpful. It provided me with detailed articles and tutorials when needed. Additionally, I was able to help share my work with my classmates which helped provide me with constructive criticism and tips to help my cinemagraph and overall project come out better. These articles helped me increase my knowledge on the topic of cinemagraphs and the process involved in creating one. Miro provided me with a platform to post my storyboards, sketches, and overall project ideas.
Images/Screenshots from Miro: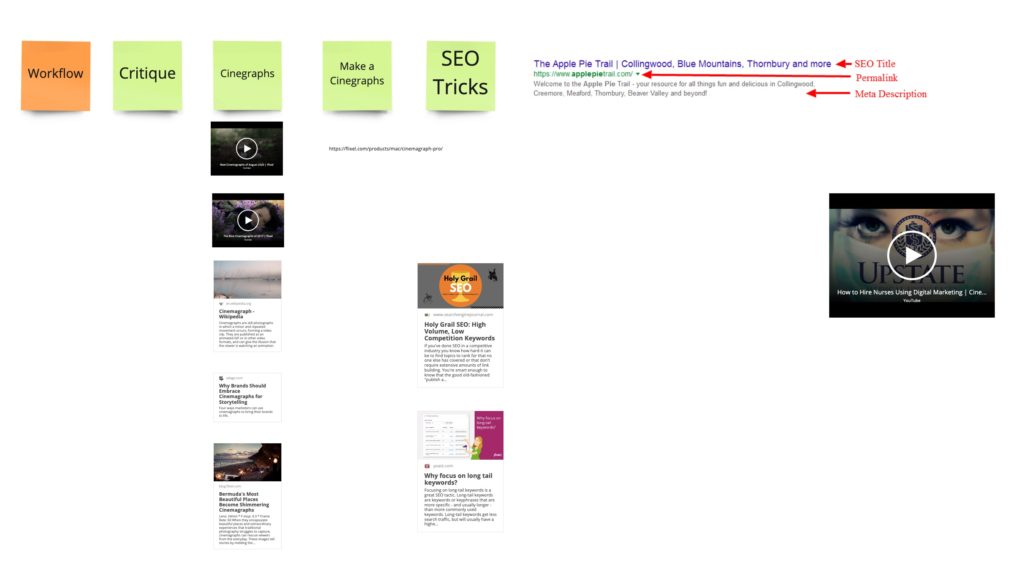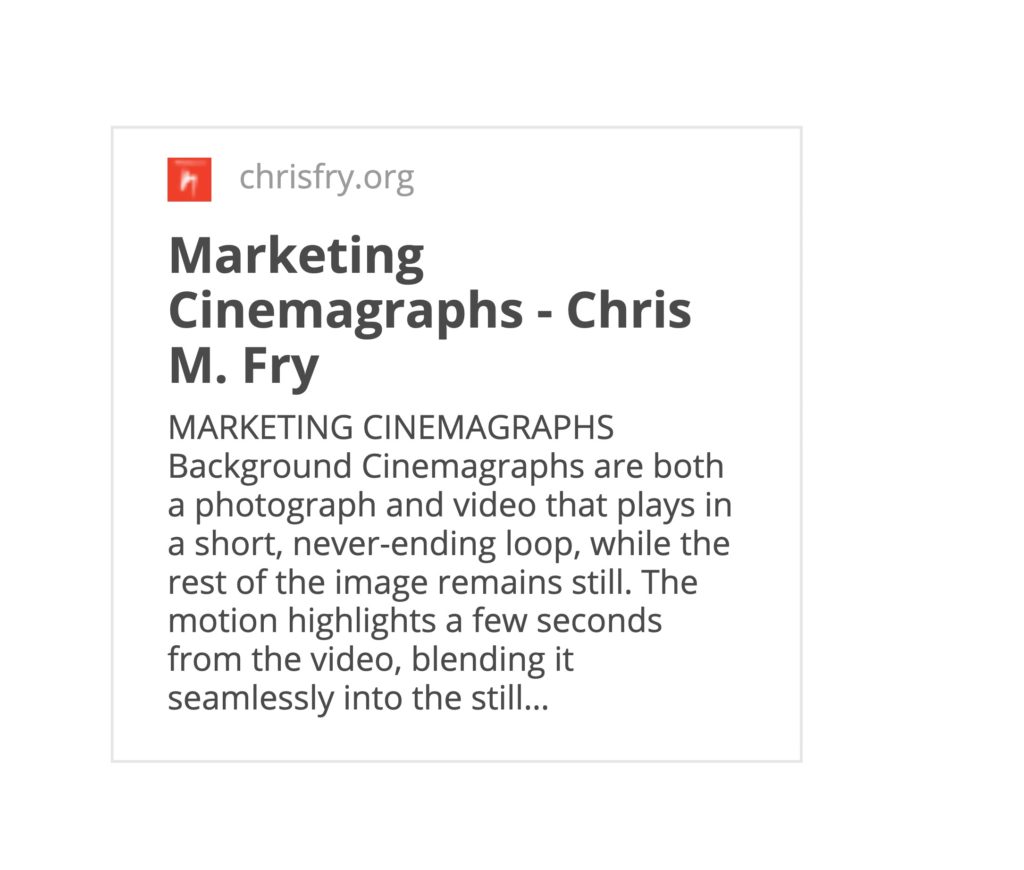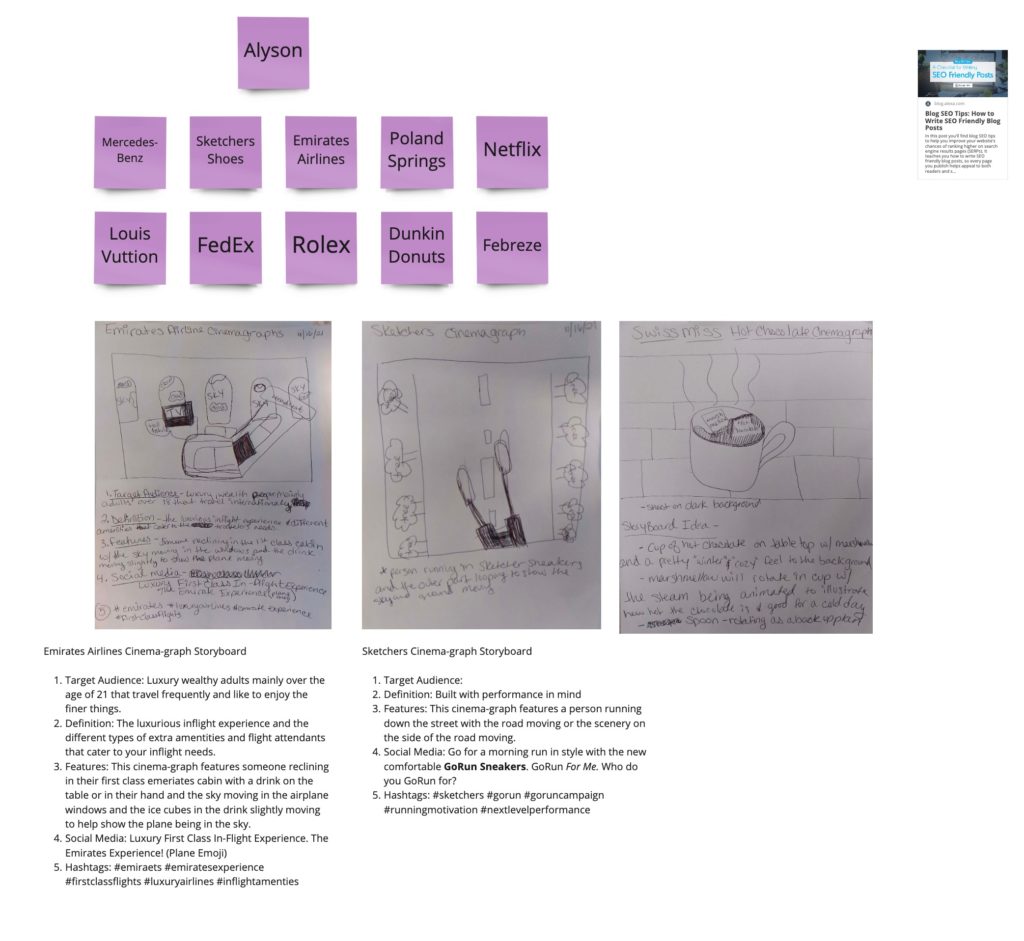 ---
Section 6: Paper Prototype
You have developed an asset, either logic or visual.
Lincoln MKZ Storyboard- Rough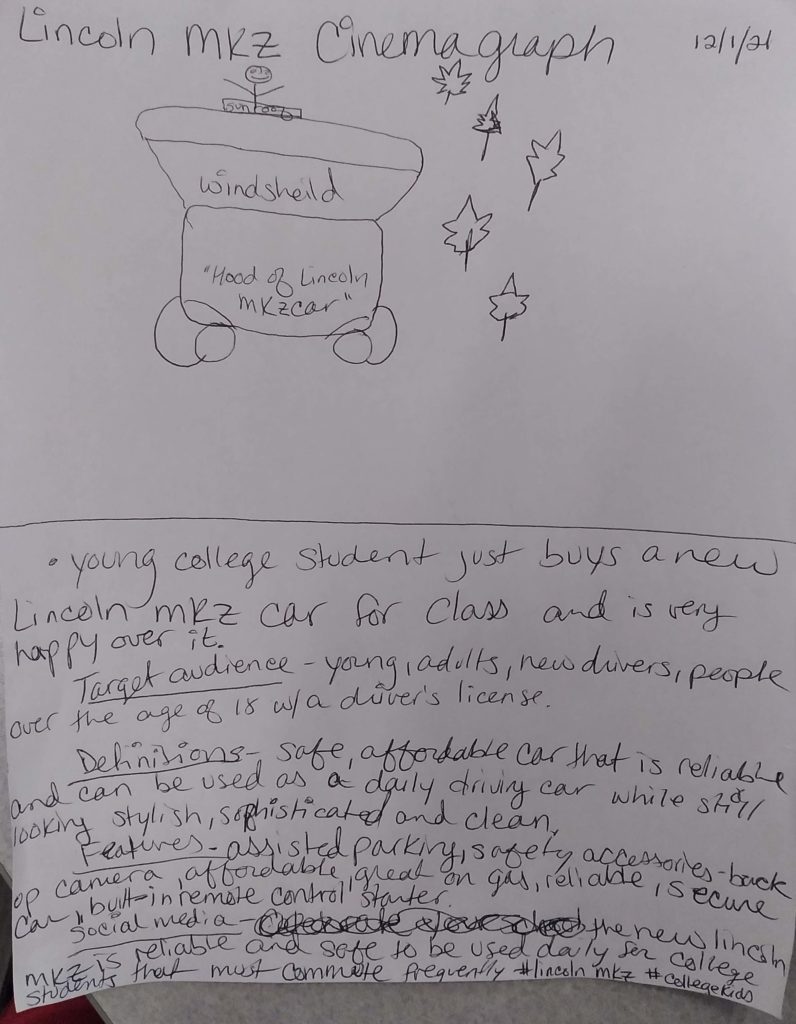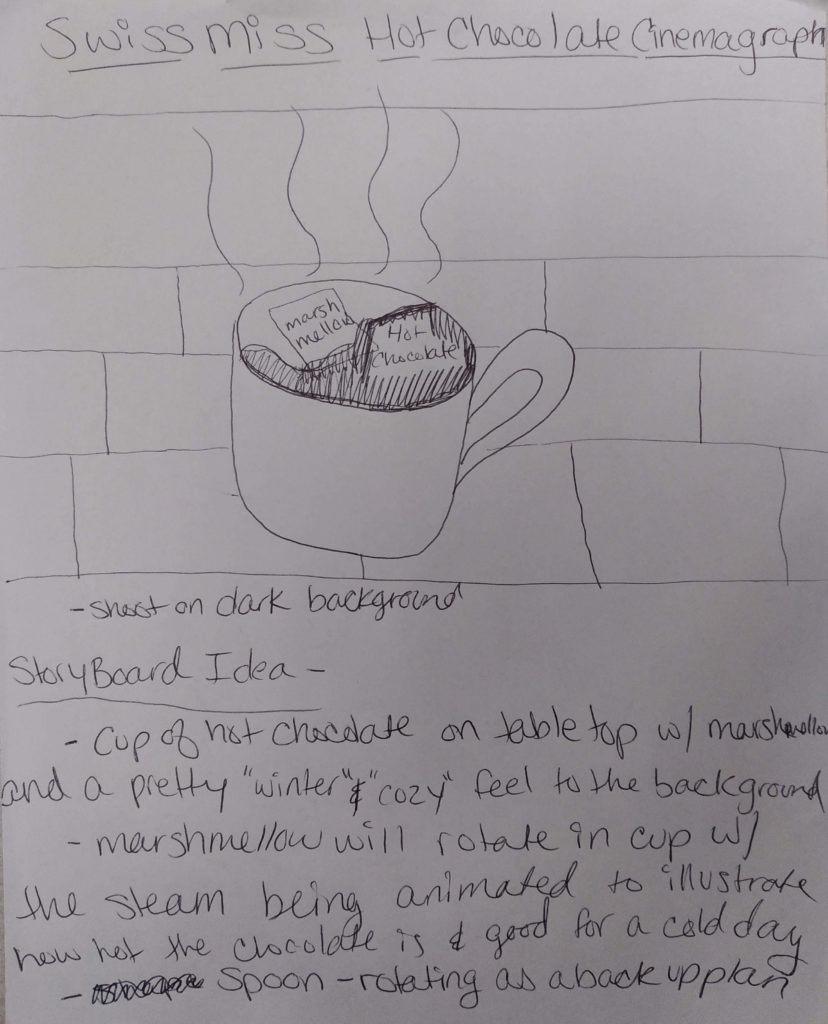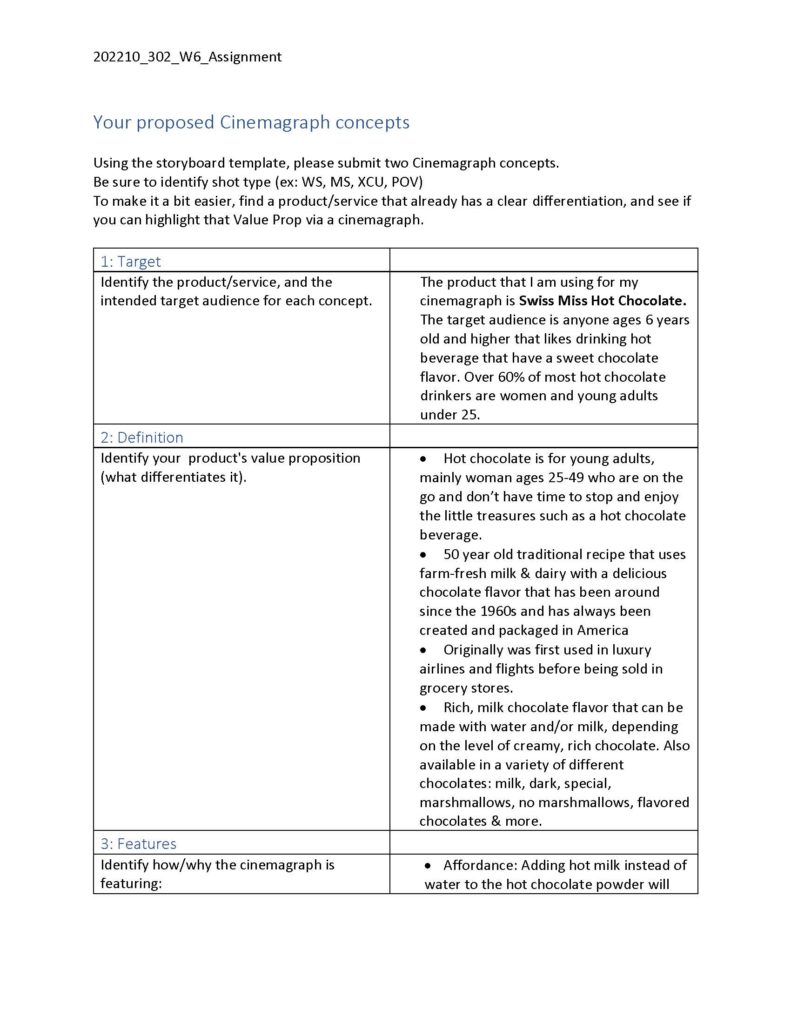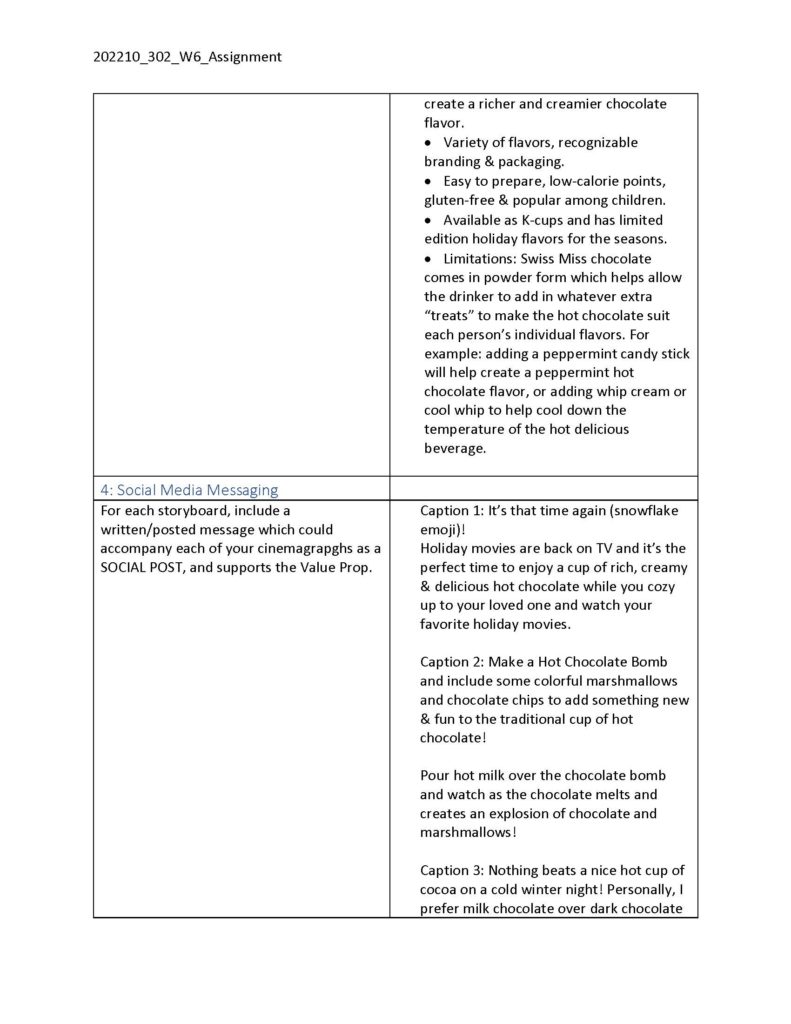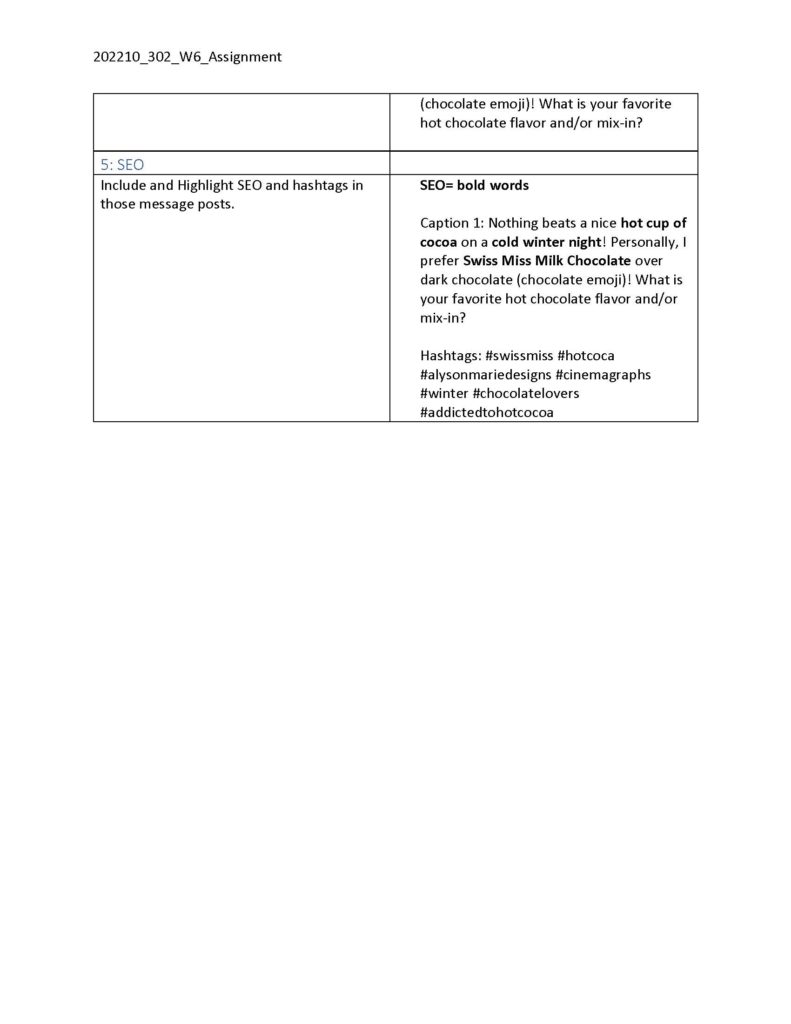 ---
Section 7: Digital Prototype
You have made a digital asset that was inspired by the early work of the project.
Lincoln MKZ Rough Cinemagraph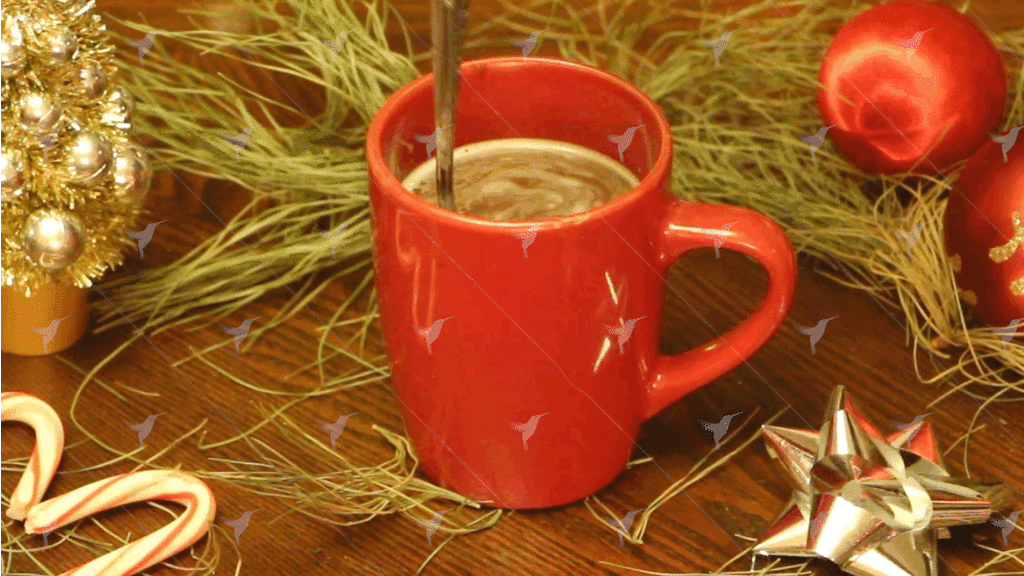 ---
Section 8: Digital Prototype (Content Marketing or Mobile)
Week seven you were tasked with enhancing your first digital prototype or moving in a new direction.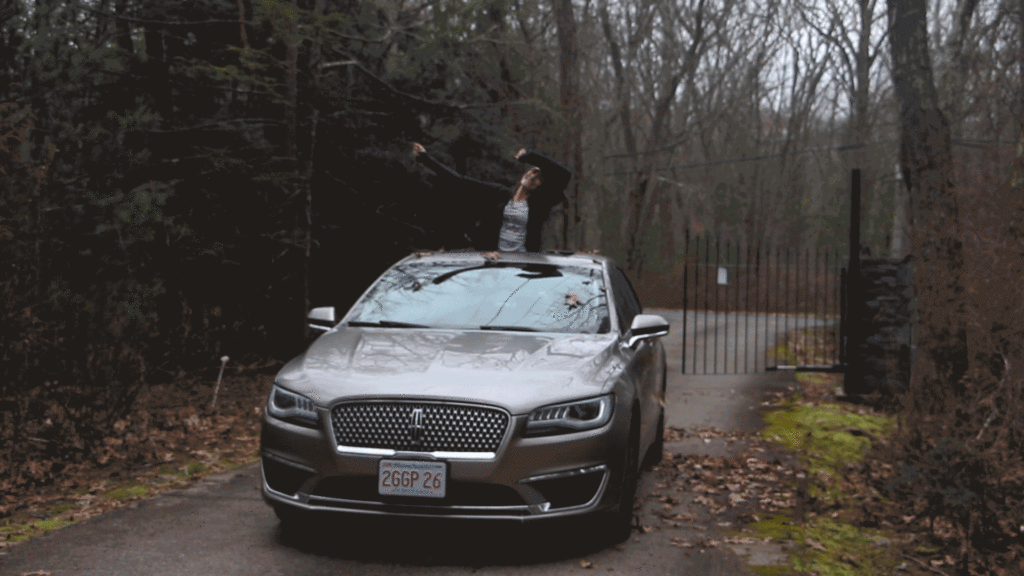 After, setting up my cinemagraph and filming the scene, I realized that I did not like how it came out and dedicated to go in a completely different direction. I finally ended up choosing to use the Swiss Miss hot chocolate brand to create the ideal cinemagraph for this project. The cinemagraph for the Swiss Miss project consists of a holiday/ seasonal background with a fresh cup of hot chocolate being stirred to creamy perfection. This cinemagraph highlights the best part of making and drinking hot chocolate which is when you get to stir the powder, milk, and water together to create a delicious sweet cup of hot chocolate. The affordance that the winter/seasonal background gives to the scene is the familiarity of being in a special treasured moment. When you were younger, do you remember playing outside in the snow and coming back inside to have a cup of hot chocolate to warm you up? This hope of this cinemagraph is to bring back those small treasured moments and increase them by taking a moment to enjoy hot chocolate with your loved one.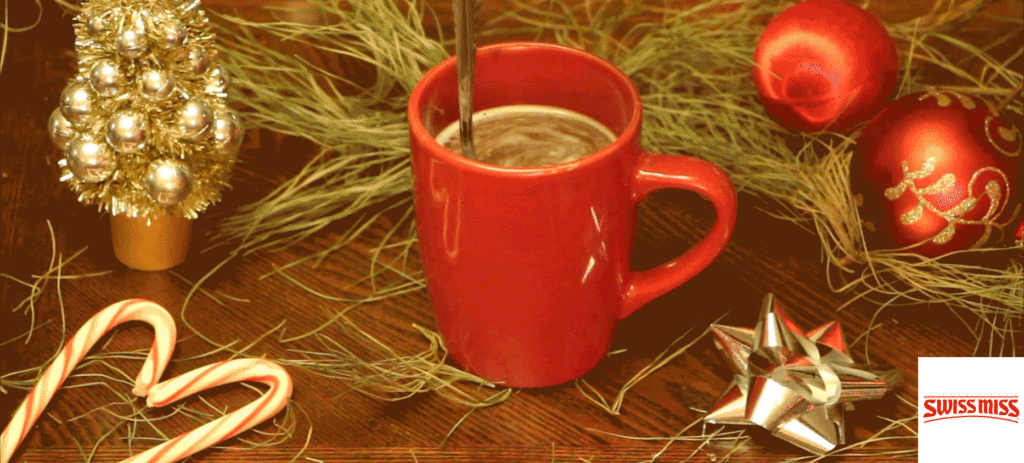 ---