Client Name: Bronzed Sunless Tanning
Industry: Tanning Salon, Beauty
Location: Seekonk, MA
Size: Small-Business Startup

Bronzed Sunless Tanning is a luxury spray tan business in Seekonk, Massachusetts and also offers mobile appointments across RI, MA, & CT. Besides offering professional custom sunless tans, they also sell a variety of retail products to extend the life of you tan. They opened in October of 2020, while it is still considered a new small business start-up, I was able to offer a visual solution to expand their retail sales to the internet with a easy-to-learn content management system.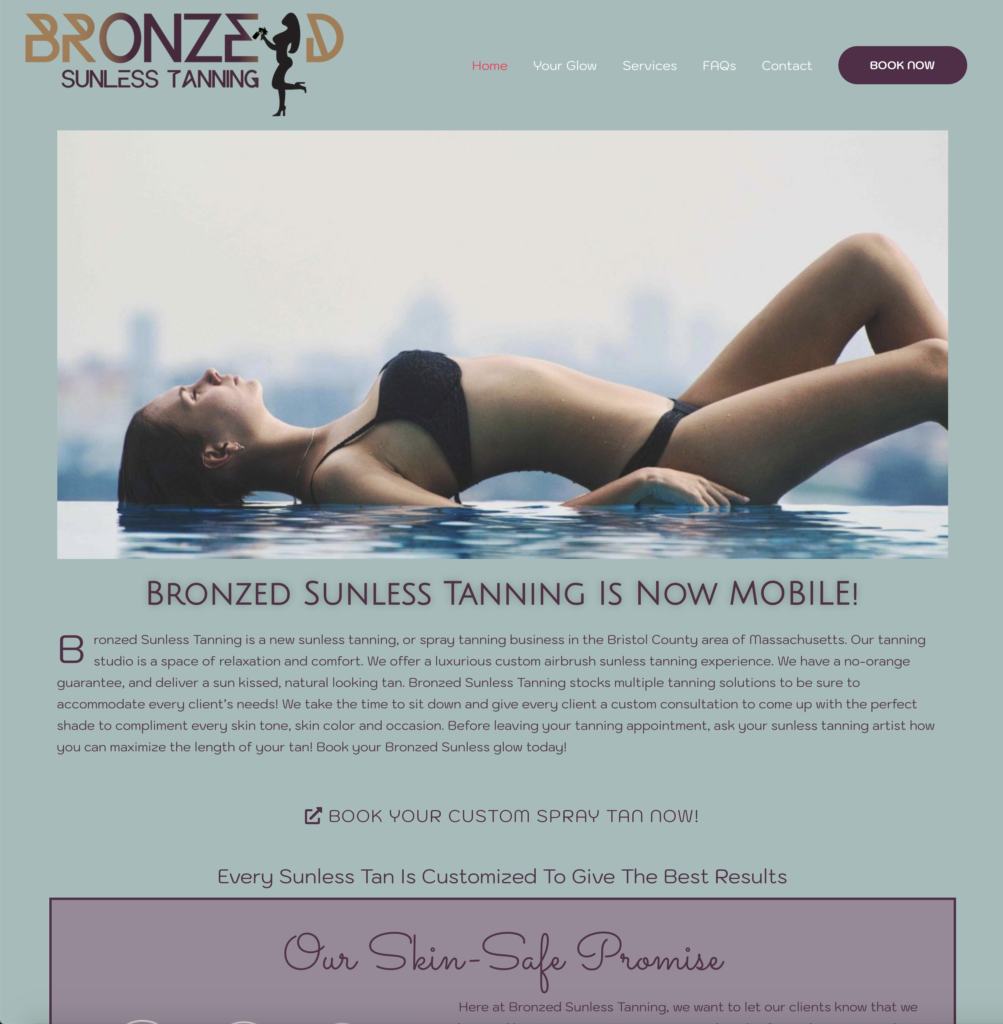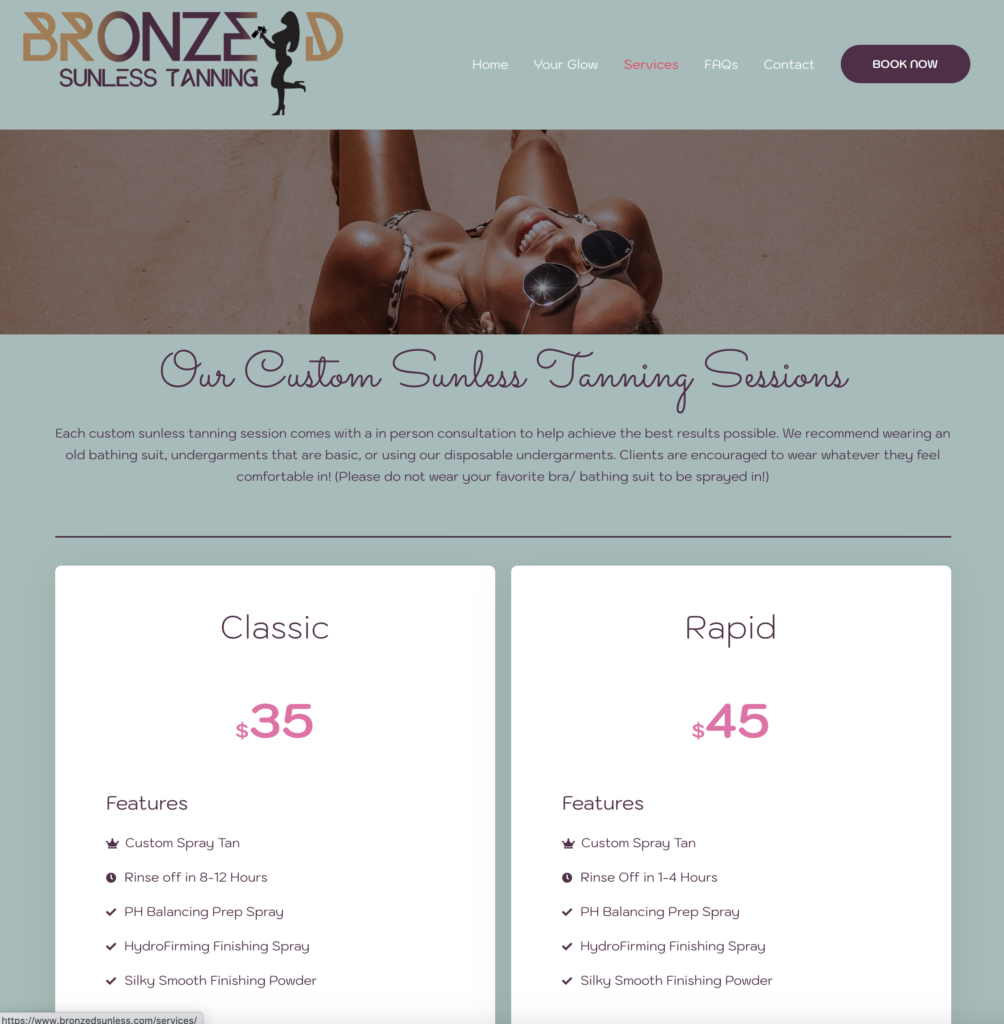 For this project, I was tasked with creating a modern, easy to understand e-commerce website. The client requested that the call to actions were large and found frequently throughout the website. Along with the ability to offer products online to clients, there was a request to add a booking option too! The client also requested that a FAQ/What to Expect page be available on the website for new spray tanners to have an understanding of what to expect during their tanning visit.
The e-commerce website must be setup to take all major forms of credit cards, apply pay, google pay, & more. Lastly, the website must follow the same color scheme as the interior of the tanning studio, which is purple, black, white, and silver, and have a newsletter for clients to stay updated on our policies and special deals.
Client's Numbers / Statistics*
60%
Increase in online visibility by over 60%
10%
Increase in overall website visitors by 10%
1st
Now appears on the 1st page in google search results
*After completion of project
Some of the challenges that the client, Bronzed Sunless Tanning, is facing is the lack of website views, little to no traffic on website, needing a place to sell their retail products, and finally most important, an e-commerce website that can found on the 1st page of google, or any search engine.
The main primary objective is to build an e-commerce website that provides customers with the ability to create an account, add items to their cart, and safely & securely checkout.
These are the primary objectives because they are the most valuable way for the company to increase their sales.
Some of the secondary objectives would be an informative webpage to explain what to expect during you appoint, an option to book your appointment, leave reviews, and an option to join the newsletter. These would be considered secondary objectives because they are not as important as the primary goals. They do back up the primary goals and provide a great way to increase the tanning salon and overall design and unity between the e-commerce site and social media platforms.
I approached this problem by starting with a wireframe and laying out the way I wanted the website to be setup. I decided that using a large banner will help attract new and existing clients to the salon. Next, I choose to use a grid setup that worked best with the shape and colors of the images, I decided to choose a simple 3 column layout.
This means there will be 3 images going across and will have the information for each product and price below. This will help make it easy for customers to find their way around the website to buy what they need with ease. I choose to use a simple yet modern approach to creating this website.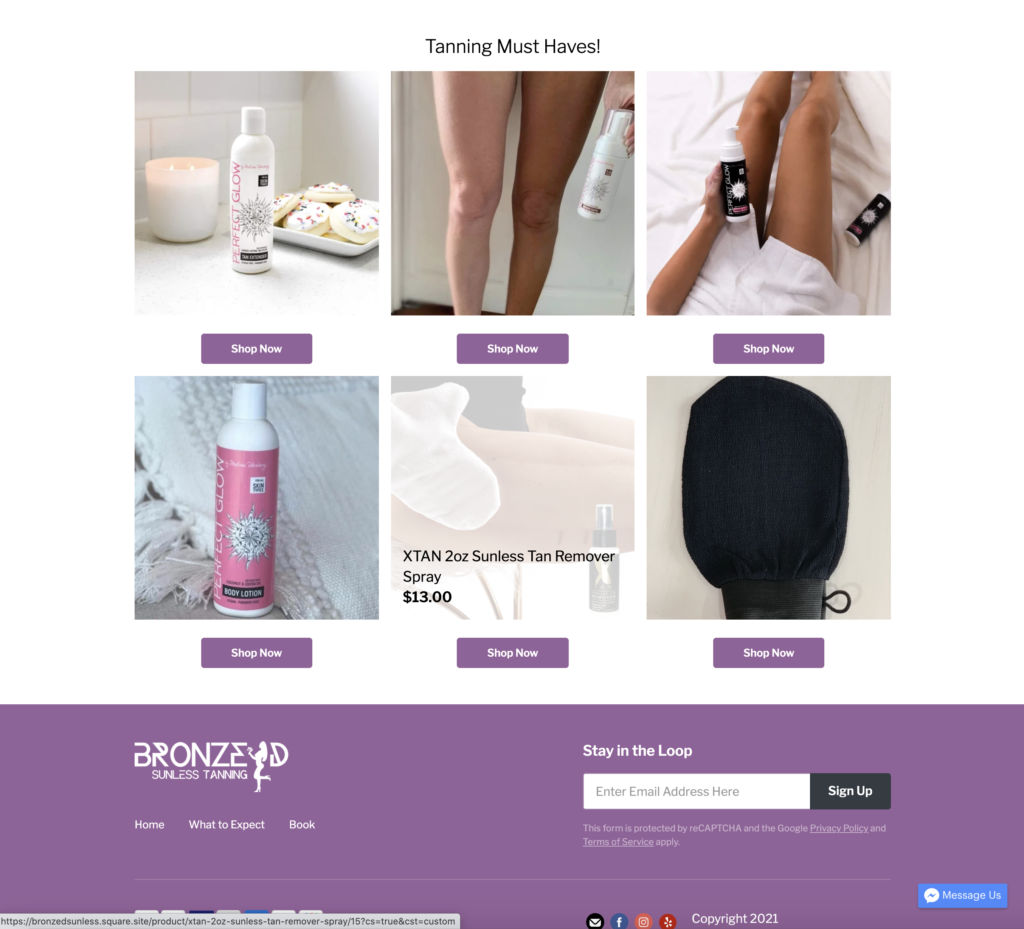 The basic strategy I decided that seemed best for the website was to sync it up to the point-of-sale app and import the products and services that were offer, Next, I did some research on the tanning company and what their branding colors were and how I could use them in my designs to unify the social media platforms with the new e-commerce website. This strategy was the best to implement due to the fact that all clients, new and existing, will now immediately
get the affordance that the same business can be found on this site, Facebook, Instagram, and so forth. I used proper alt tags, optimized images, researched and strategically placed keywords throughout the webpages to increase website visibility. These solutions increased the visibility of the tanning salon by over 60% than what it used to be!
---